Human Herpesvirus-6 and -7 Page
Some of the links such as Tables and enlarged graphics will open in a new window. Use the "Back" button on your browser to return to this homepage.
---
Past and recent research on HHV-6 and HHV-7.
A collection of electron microscopic and immunofluorescence images
Diagnostic Microarray development
---
E-mail: JL@borg.evms.edu
---
HHV-6 Research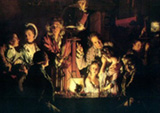 Human Herpesvirus-6
The HHV-6 Genome
HHV-6 Replication
HHV-6 Latency
---
HHV-7 Research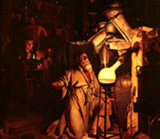 Human Herpesvirus-7
The HHV-7 Genome
HHV-7 Replication
HHV-7 Latency
---
Can be viewed with any browser equipped with the Shockwave Flash Player which is available as a free download.
---
EVMS Molecular Pathology Laboratory
---
Last updated
September 15, 2000
---